agilesWorkflow Features
From simple notifications over to-do management to complex workflows in Microsoft Dynamics NAV – this is agilesWorkflow
agilesWorkflow illustrates your individual business processes transparently in Microsoft Dynamics NAV and guides your employees through their daily work. You decide how detailed your business processes will be set and on which event in Microsoft Dynamics NAV a workflow should be created automatically. You define the start condition for the workflow. A workflow consists of at least one to-do or more than 100 to-do's, depending from the business processes, alwasy tailor-made to fit your company.
Parts of a workflow:
to-do
start condition
to-do group
Parts of a to-do:
What should be done?
Who is responsible?
When is the to-do started?
How long does the to-do take?
Which to-do type?
These to-do types helps to define a to-do:
Manual completion
for to-do's that only need to be confirmed by the user
Field examination
Define and validate mandatory fields
Date Monitoring
Compare two dates against each other
Document storage
Upload documents automatically or decide manually to attach it to the right document
Decision
Employees decide something which depends the following process
agilesWorkflow is as flexible as your business processes in Microsoft Dynamics NAV
Small workflow processes, which notify an employee, for instance, customer data has been changed, sales prices expired, credit limit exceeded can easily be mapped. To-do management, such as new item, new project, new employee, as well as complex workflow processes, like product development, invoice approval, purchase order management, sales claim process can also be created usually without any modifications to the code within Microsoft Dynamics NAV.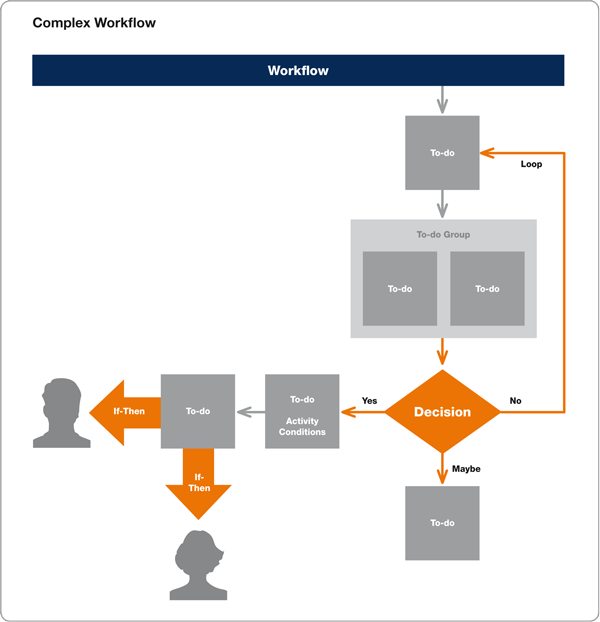 Learn more about