NAV-X Documentation revampt!
What did we do?
We always had Microsoft Dynamics 365 Business Central Documentation for our products. It is a requirement to publish online documentation when publishing apps on Microsoft's AppSource. Although not a requirement, we also always had Microsoft Dyamics NAV Documentation for our products.
However, we have been working hard over the past weeks to make our online help and documentation better. We have aligned it to the format most users and partners are used to already; we are using a similar style to what Microsoft is using in their documentation.
Where is it?
You can find our new documentation located at http://docs.nav-x.com. One location for all products, versions, and locations.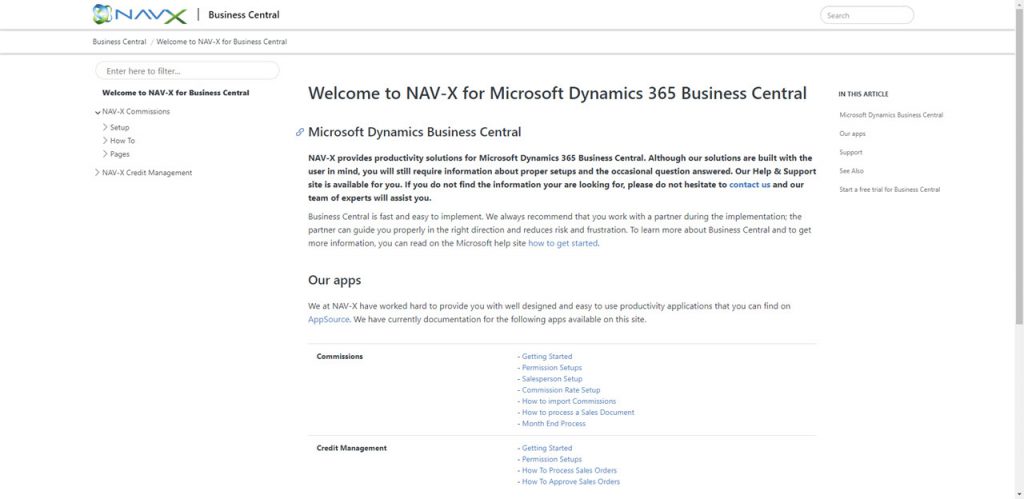 Not only is the styling and layout familiar to our users, it also styles better on any size of device. When the way you work changes, we also have to change the way we provide information. We have seen a lot faster page loads. And we just think that the documentation is easier to navigate and read.
We did not move everything over to the new version yet. It is still a work in progress. But we are moving each product over when we are releasing a new version. This will allow us updating the documentation at the same time while we transfer the content.
Geeking out a bit…
For any of you out there that want to understand what we did in the backend: We are using Markdown with DocFX. You can find a lot more details on the Business Central page from Microsoft. It details how to contribute to the online documentation. While it has its challenges – like anything has that you start learning – it also provides a very good base for integrating the documentation into our source code management process. This is important as we are moving more and more to Continuous Integration/Continuous Deployment for all aspects of our products.
Do you want to know more about our online documentation or our products or anything else we can help you with, please contact us and we will try to assist wherever we can.