History | Dynamics NAV
Have you ever wondered, who changed the credit limit for a customer and when this was done? Or why the pricing doesn't look right? The chances are high that you have asked those questions. The chances are also high that your partner pointed you to the standard Microsoft Dynamics NAV functionality called "Change Log". This functionality does everything you need with one big exception: It is almost impossible to go through the recorded data and find answers to those questions.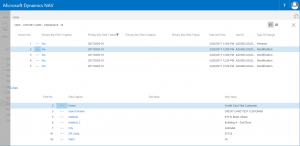 NAV-X History builds on the standard functionality – so, if you have used the Change Log before, you can continue to use all the setups you have done before. NAV-X History adds an important layer to the standard functionality – it makes the data readable. During the implementation, a button is added to the pages that have the Change Log enabled. You will have access to the relevant history for the current record and won't have to dig through hundreds of irrelevant Change Log Entries.
Features:
Built on standard Microsoft Dynamics NAV functionality
Tracks changes to the data done by users or the system
Easy to install and uninstall
History right at your fingertips: History button is available on all tracked pages