agilesWorkflow or Microsoft Dynamics NAV Workflow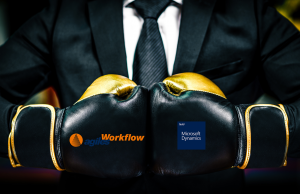 Often times we are asked…what are the differences between workflow solutions?
After all, it comes out-of-the-box, isn't it the same thing?
Workflow Automation is critical in any business.  It will help an organization improve its communications, make processes more efficient, and allow it to become more agile.
If Workflow is so critical one has to go beyond the superficial realm of "checking off" a box like you are ordering a product online.  You have to understand how quickly the workflow solution can become part of your organizational processes.
"Ease of use" becomes a primary responsibility for you to investigate.
Microsoft Dynamics NAV workflow requires "customizing" the application code since so few workflows actually match any businesses real processes.  In order to do this, an experienced developer is usually required.  Are you a developer?  That person needs to go through a series of steps to first create an "event" and then go through another series of steps to create a "response".   Want to quickly change it? Add another? Better have a developer on staff or readily available.
With agilesWorkflow, the whole system is a series of drop-down and pull-down actions that resemble a logic "workflow" diagram.  You can have:
Multiple levels of communication
Individual or Teams (Groups) being notified
Various Types of interactions
Plethora of NAV Reports, Functions,  and Processes automatically run
Multiple decision paths to expedite and streamline the process
And Every step can have a time/duration and escalation added
Finally, to top it all off, if a person has completed their assigned tasks for a given period, agilesWorkflow can look ahead and allow them to "pull ahead" future requirements that are for that group or individual.
Now that is a solution that is Flexible, Adaptable, and allows any organization running Microsoft Dynamics NAV to become more Nimble, Agile, Responsive, and PROFITABLE.